There are a variety of maintained moorings available in Chichester Harbour at Itchenor, Dell Quay, Nutbourne and Emsworth. To follow is an overview of the current charges, how to classify your vessel and information about mooring areas.
Classification of Moorings
Categories
Refers to charted depth of mooring
'A' – more than 0.5 metres
'B' – 0.5 metres to 'dries 1.0 metres'
'C' – 'dries 1.1 metres' to 'dries 2.5 metres'
'D' – 'dries more than 2.5 metres'
Classes within each category
Maximum authorised overall length of vessel
'1 XL' – 16.01 metres to 18 metres
'1' – 14.01 metres to 16 metres
'2 XL' – 11.01 metres to 14 metres
'2' – 9.01 metres to 11 metres
'3' – 6.01 metres to 9 metres
'4' – Up to 6 metres
These definitions refer to the position of the mooring clump, the centre point of spread anchors, the point where the riser is connected to the ground-chain or the centre point between fore-and-aft moorings, as appropriate.
The plan to which they refer is a master plan maintained by the Harbour Office based on the Ordnance Survey and amended by the Harbour Master from time to time in the light of Conservancy policy.
Use of any mooring by any vessel is subject to the Conservancy's Conditions of Site Licence or Hire. Payment of the licence fee or hire fee acknowledges that all conditions have been complied with.
Mooring Charges 2023/2024
Itchenor & Sweare Deep
All Other Areas
Premium Moorings (Category & Class)
Annual Charge (inc VAT £)
Non-Premium Moorings (Category & Class)
Annual Charge (inc VAT £)
33% Reduced Rate Moorings (Category & Class)
Annual Charge (inc VAT £)
A1 XL
2,963.08
A2 XL
2,014.78
Nutbourne – A2XL
1,349.90
A1
2,764.92
A2
1,887.66
Nutbourne – A2
1,264.73
A2 XL
2,196.08
A3
1,505.38
Nutbourne – A3
1,008.60
A2
1,997.88
B3
914.17
Emsworth – B3
612.50
A3
1,590.54
C2
633.19
Church Rithe – B3
612.50
A4
1,309.94
C3
524.75
B3
961.57
C4
438.26
B4
824.00
C3
554.82
NB: Annual mooring charges are from 01 April for a period of twelve months. A non-returnable deposit of 20% of the annual fee is payable in the November of the preceding year, with the balance payable by 14 March. An option to retain is available at 15% of the annual rate. Un-let moorings will be available at a reduced rate on a sliding scale of 10% per month from 01 June. Payments for all periods of hire are payable in advance. Mooring fees are refunded pro-rata only if the mooring is re-let, less the non-refundable deposit.
Information on Mooring Areas
Itchenor Reach
The jetty at Itchenor has fresh water available (please provide your own hose) and a grey water pump-out facility is available for boats with holding tanks. Boats may use the jetty for picking up stores and passengers for a period up to 20 mins. This is a very busy jetty during the summer months.
Two sets of scrubbing piles are available on the Hard (£22 per workable low tide) and each have piped fresh water. The western set of piles can be served by electricity from an adjacent power point (requires approx 100m extension lead).
Showers are available at The Harbour Office, Itchenor, tokens are £2 each and can be bought from the Office or Patrol Staff.
The Conservancy maintains over 600 swinging moorings in this busy hub of the Harbour, the deepwater moorings here are accessible at all states of the tide. We are able to accommodate vessels of all types on swinging moorings in the Reach in the areas on the plot. Dinghy storage is available on the public hard at Itchenor.
Itchenor Reach – Westlands
Situated at the eastern end of the Itchenor Reach, mooring holders in this beautiful area are able to make use of the boathouse and tender storage at Westlands. Here you can keep a rigid tender on the dinghy chains or an inflatable tender in the racks and have access to the secure boathouse, with toilet facilities, where you can store an outboard engine and use a locker (provide your own padlock). Parking for vehicles is provided with a 'permit only' car park. These facilities provide easy use of these moorings with a maintained shingle causeway to the low water mark alongwith two dinghy trolleys to assist customers in launching their tenders.
Sweare Deep
This location offers good access from the nearby Northney Marina. Please contact the Marina for launching fees on 02392 466321. Deep water moorings in this area are highly sought after, and vacancies are rare.
Church Rithe
Good access from Northney Marina area or tidal access from Langstone village. The Marina will charge for launching a tender from the marina, but this includes car parking. If you wish to keep the tender in the Marina compound there is an additional charge.
A small Rithe that runs NW from the western end of Sweare Deep. Access is possible from Northney Marina; please contact the Marina for launching fees on 02392 466321. Access is also possible from the village of Langstone, although more restricted by the tide. The moorings are laid in a single line of 13 in number B3 moorings, and 8 in number C3 moorings. These moorings are ideally placed for sailing from this part of the harbour.
Emsworth Deep & 3/4 Tide
A complimentary water taxi for Conservancy mooring hirers operates +/- 2hrs either side of high water on Fri/Sat/Sun and Bank Holidays from 01 April – 30 Sept. Operating times are between the 0830 – 1700.
Full Tide – Deepwater Moorings: Emsworth Channel offers good deepwater moorings for boats up to 12m & 9m. These moorings offer good access to the harbour and the eastern Solent. Dinghies may be kept on the Conservancy hard adjacent to the South Street slipway or by the pontoon on the sea wall, from where the complimentary ferry operates.
¾ tide Moorings: These moorings offer full tide access during the neap tide cycle but will dry for a short period during the spring tides. The moorings offer a good alternative for those boats that can take the ground with the benefit of access during the neaps.
Emsworth Pool
These C3 moorings lying just south of Emsworth town offer a good half tide facility for boats up to 9m, drying on to soft mud with easy access +/- 3 hrs either side of HW. Dinghies may be kept on the Conservancy hard adjacent to the South Street slipway or by the pontoon on the sea wall, from where the complimentary ferry operates.
Nutbourne
Access to mooring from dinghy chains at Prinsted Point +/- 3hrs either side of HW. Access from Thornham Marina +/- 2 hrs either side of HW. For customers that use Thornham marina for access the current annual charge levied by the marina is £100 for use of the car park and facilities. There are a small number of class 2 moorings suitable for shallow draft vessels over 9m at the north eastern end of the channel which are ideal for multihull boats.
Using a Swinging Mooring
Read our short Guide to Using a Swinging Mooring to make sure your boat is moored safely and securely.
Private Moorings
If you are looking for a cheaper alternative to a maintained mooring, you may want to consider a private mooring. Private mooring site licences are issued by Chichester Harbour Conservancy. These sites can be considerably cheaper than a maintained mooring, because the mooring hirer is responsible for the upkeep and maintenance of the mooring tackle. The prices quoted below are for the 2023/24 season: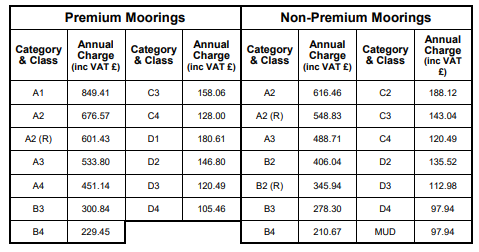 Private moorings are split into two categories; either a site licence on land controlled by Chichester Harbour Conservancy or a site licence on private land. Moorings can be obtained through the Harbour Office by completing a Private Mooring Transfer Application Form and the licensees signature on this form records agreement to the Terms and Conditions of the site licence.
Please note that all vessels on moorings and berths within Chichester Harbour are subject to Harbour Dues and must obtain insurance against Third Party claims for at least the minimum sum recommended by leading marine insurers.