Educational boat trips for schools can be booked on their own or as part of a day spent in Chichester Harbour with the Harbour Education Service. An experienced teacher will be on board and the focus of the trip will be planned in advance to make sure the students get the most from the visit.
All trips take place on Solar Heritage, a pollution-free, solar-powered catamaran. The vessel has two sources of energy – electromagnetic energy from the sun and conventional energy from the National Grid. The benefits of using an electrically driven solar powered catamaran as opposed to more conventional fuel driven vessels are:
Silent running therefore no disturbance to birds, animals or humans
No exhaust emissions therefore no CO2 contribution to greenhouse gases
No wash as a result of the twin hull configuration therefore reduced salt marsh and estuary bank erosion.
The boat offers some excellent prompts for students to consider climate change, renewable energy, and the impact of wildlife disturbance. They will also have the opportunity to spot the Harbour wildlife and experience the landscapes of this very special place.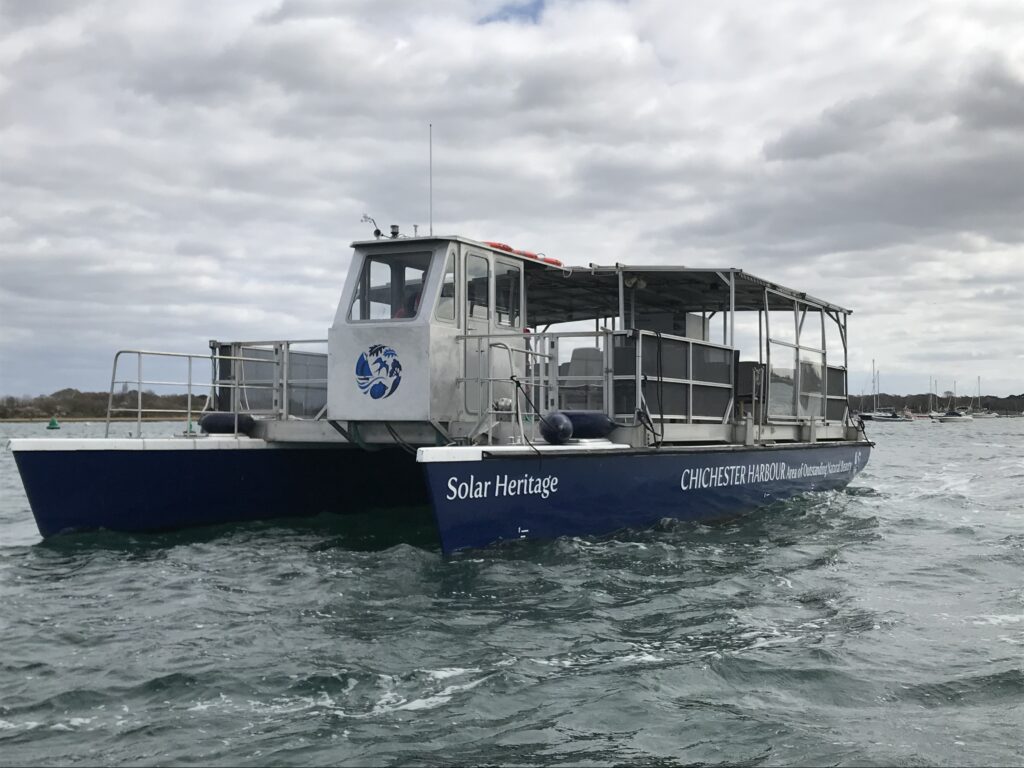 The boat and crew have been fully certified by the Maritime and Coastguard Agency to ensure that we are providing the highest level of safety whilst on board. Please contact the Harbour Education Service who will be pleased to provide more information about our educational boat trips.
Educational Boat Trips with the Get Afloat! Fund
The Get Afloat! Fund helps disadvantaged children and adults to Get Afloat in Chichester Harbour on Solar Heritage by providing free trips for schools and groups. The principal sponsors for the fund are the Friends of Chichester Harbour.
If you think your group could benefit from the Fund please contact the Education Team. If you are interested in donating to the Fund please contact the Harbour Office.